Title

Giving Back and Giving Forward — Percentage of Estate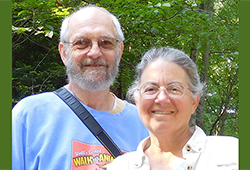 Anne Sturgeon Frenchick '73 and Theodore M. Thompson, Friend of Lawrence
In the 1960s, I was studying Russian in high school and planned to continue in college. My favorite high school teacher had graduated from Lawrence and steered me toward considering his alma mater. I had also heard that Lawrence had a good Russian department and so, when I visited the Lawrence campus the spring of my junior year (1968), I dropped in on a class taught by George Smalley, the head of the Russian Department. There were about six students in the class, practicing George's famous "dialogues," conversations and vocabulary lists that were printed in blue from a ditto machine (spirit duplicator). The classroom in Main Hall where Russian students practiced "dialogues" was lined from floor to ceiling with open shelves filled with these ditto sheets.
George was approachable, funny, intellectual and down-to-earth at the same time. His students clearly loved being there. That meeting was enough to seal the deal. I entered Lawrence in the fall of 1969.
At that time, Lawrence had several off-campus programs. As a Russian major, I planned to go on the bi-annual Slavic trip the summer after my sophomore year. But first, I decided to go to the LU German campus in Eningen, leaving in June after my freshman year!! Living in southern Germany provided a perfect springboard to see the rest of Europe on long weekends and between semesters. My love for travel and other cultures was firmly established.
The Slavic Trip, a 13-week camping trip through Eastern Europe and Russia, was a "must do" for Russian majors, and many other Lawrentians took the course prerequisites so they could go as well. We spent the year prior to the trip studying Russian language, music, history, and literature so that we could appreciate all the trip had to offer. The trip was incredible. We traveled in Volkswagen mini buses: about 35 students, a couple professors, and a couple Russian Intourist guides. We camped, shopped for food and cooked our food in the campgrounds, attended opera and ballet, toured museums and saw some of the best art in the world, visited the death camp at Auschwitz, dealt with agonizingly-long border crossings (during the tension of the Cold War), and absorbed Slavic culture, language, and history.
I believe that what I got from Lawrence - the travel, course content, relationships with the professors and students, the ideas I was exposed to, and the experiences I had - have made me a better person who is more able to understand and contribute to our world.
When I think about making charitable contributions, I think about "giving back" and "giving forward." Giving to Lawrence is a way to acknowledge that it has made a difference in my life. But even more importantly, giving to Lawrence means that future generations will be able to benefit from the experiences and education that Lawrence has to offer. By giving to Lawrence, I can "give back" and "give forward" at the same time.
I have supported Lawrence with annual contributions every year since I graduated. When my husband and I drew up our wills, we decided to give to Lawrence a percentage of our estates.
Occasionally a Lawrence student calls, updating us with news of the annual campaign. Every time I talk to one of these bright, engaged, young students, I am convinced that giving to Lawrence is the best way I can leave a legacy. My hope is that Lawrence can continue its mission well into the future to enrich the minds and lives of many young people.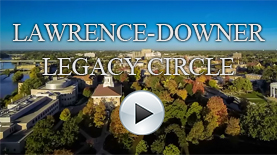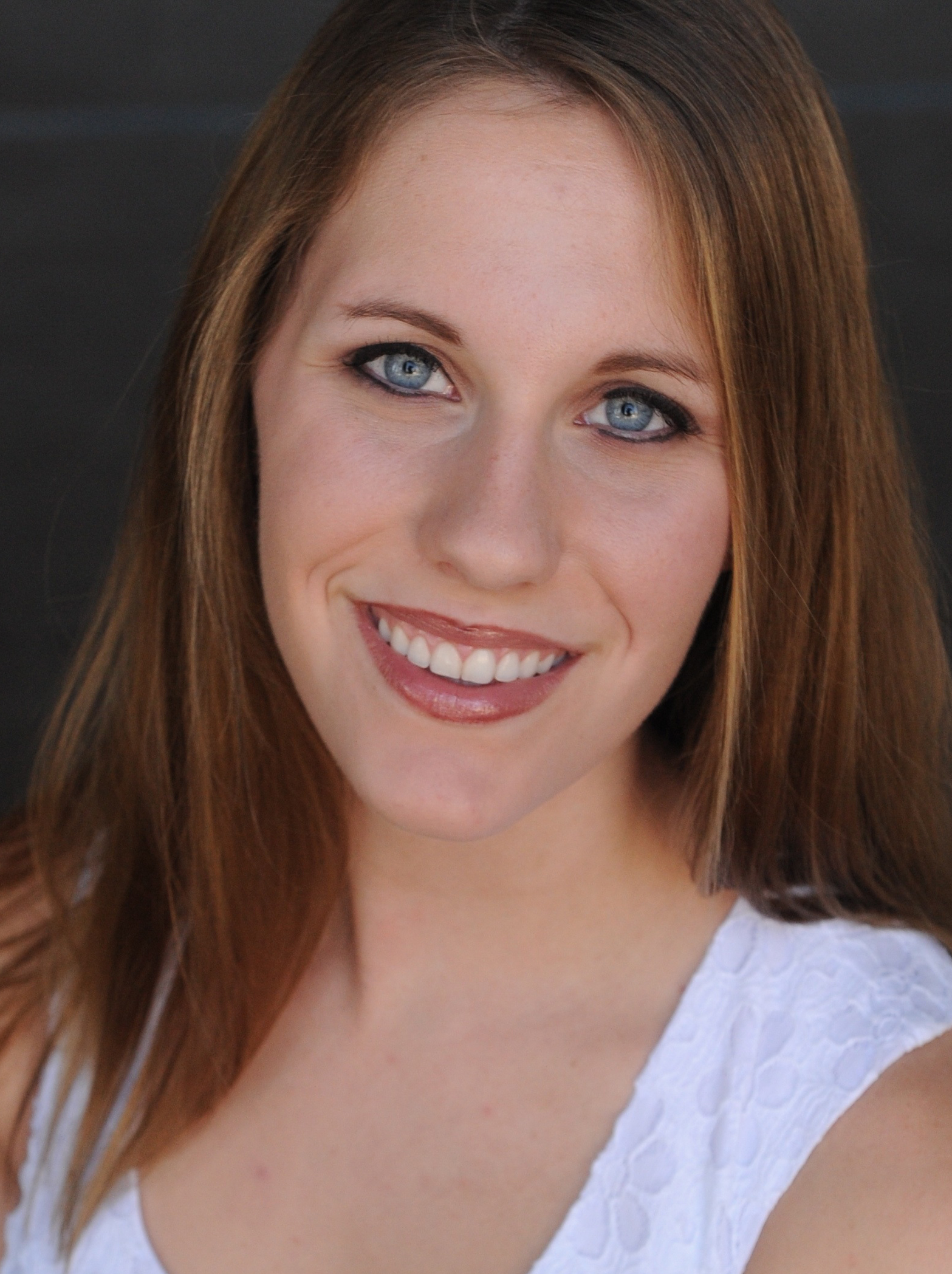 Shelby Harder, 2018
Dr. Irving Auld and Dorothy
Roher Auld Scholarship
"Many students take for granted what a university has to offer. However, I am thankful every single day for the opportunity to attend this prestigious school. At Lawrence, you have the ability to engage in Socratic debates about the world we live in at dinner, play recreational or NCAA sports, and talk one on one with brilliant professors. At Lawrence, you don't just 'learn' a subject, you are immersed in it. You dive into the liberal arts and these professors show you the beauty in it all, and how everything is tied together. I am a Biochemistry major with a soft spot for rocket science, philosophy, and evolution. Lawrence is my dream school, and it would have never been possible without the Dr. Irving Auld and Dorothy Roher Auld Scholarship. I am forever grateful for their generosity."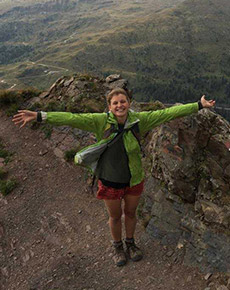 Juliana E. Olsen-Valdez, 2018
Carroll Family Scholarship
"Lawrence University is a great place for students looking to embrace their multi-interested approach to learning. As a Geology major, I have spent many long hours in laboratories. But, I have also had the opportunity to organize and lead students on outdoor backpacking trips, help build a stronger community for International students, participate in dialogues on campus initiatives, attend dozens of musical events, and study abroad in a field-based geology program, all while taking classes in a variety of academic spheres on campus. Lawrence, as an institution and student body, creates a collective of learners, listeners, and leaders who are continuously evolving their understanding of the world around them. I am fortunate to have the support of the Carroll Family Scholarship, so that I can say I am a part of this exceptional community too!"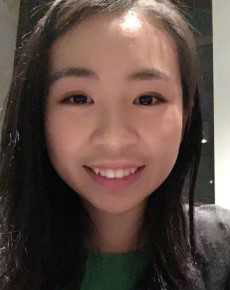 Weiqi "Vicky" Liang, 2019
Marian H. Cuff Endowed Scholarship
"Lawrence is a special institution with nice people around the campus. I better myself by trying out different things and using new ways to think critically. Even though I am a Philosophy major, I have successfully taken classes in Anthropology, Biology, Economics, and Government. In addition, I still find many great extracurricular opportunities to explore, such as singing with Viking Chorale, even though I am not a music major. While having the great experience of volunteering at the elderly center last year, I became an elder advocacy coordinator at the Volunteer Community Service Center. At Lawrence, I've learned to handle difficult academic problems while looking forward to exploring possible opportunities. I am very grateful to be awarded the Marian H. Cuff Endowed Scholarship for every year I have been here, and appreciate that the scholarship has provided this wonderful Lawrence experience to me."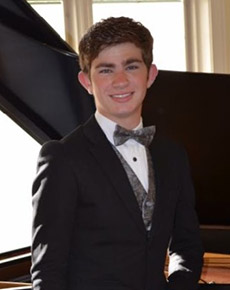 Anthony Cardella, 2018
Ansorge Family Scholarship
"I am so excited that I am able to attend Lawrence University. I know that I will make great progress studying piano with Dr. Michael Mizrahi. Since being at Lawrence I've already made a lot of progress and I really love it here. I am so grateful for the Ansorge Family Scholarship that made it possible for me to come to Lawrence because without it, I might not have been able to afford the cost of attending a school that is a great fit for me and a place where I will learn so much and go so far."